Hello Fear
Posted by Adriene on
Hi everyone!

I hope you are having a great day thus far!

If not, hopefully this email will inspire you to stop and take a long loving breath in, sit up tall and maybe even smile. 

This week I invite you on a magical journey!
A magical journey away from that big land called your comfort zone.
 
This week we focus on intuition.
Straight up.
 
I've got a lot on my mind these days. It seems as though everything is so extreme lately. Am I the only one feeling this? A roller coaster of really bad or really good. Of really right and really wrong. Ultimate joy vs. decades of fear.

As I enter a new decade of living and begin a new season, I have set intentions to re-establish a loving relationship with my intuition. I am doing this because I want to relinquish old habits based on fear and I want to seek my truth. Yogis are truth seekers dang it. So – here we go!
 
GET OFF AUTOPILOT
GET OUT OF YOUR OWN WAY
LISTEN TO YOUR GUT

The tools of Yoga offer us an opportunity to check in and connect to what is really happening in the present moment.
For me, Find What Feels Good is the process of becoming more intuitive on the mat.
 
On the mat there is this tendency to just show up and do what you are told. I'm really interested in cultivating a place and encouraging a practice that does not look like we are some odd group of yoga robots from outer space.
No more yoga robots!
 
There is this odd thing that I notice in yoga class where people are afraid to stand out. They are afraid to go against the grain, to go against the mold and even to go against me.
Lately, in my public classes, I will begin cool down with what I have been calling "Perspective Playground." SO CHEESY, I know. In this time I play a song and I offer poses to work on that change your perspective – how you are looking at things in the space literally and, of course, I offer the idea that we have a chance to look at something in a new way. Get off that autopilot and into your own skin. This serves as a great time for people to go upside down or into a side plank. I walk around or invite people to wave me down if they want to learn one of the poses I suggested.
From there – we continue in a place of freestyle. I guide them by saying, " Don't Decide Where It Ends!" We get goosebumps. We struggle- because damn it, we paid to be told what to do! We eventually find freedom, a sense of play and ease. Some go straight to Savasana and some turn down for whaaatttttt!
We are all happy and moving and breathing. We get out of our own robot way and we listen to our guts. 
 
This is the real yoga for me. This is the moment where every single person in the gallery looks completely different. Breathing, smiling, playing together – but embracing our individuality as a means of exercising both mind and body.  It's so beautiful.
Everyone is following his or her own intuition. Everyone is listening. No robots. 

So, this week, I invite you to exercise the muscle of intuition. 

Play with this on the mat. Perhaps before a yoga video or after. Before a walk or run or after. 

Play with this off the mat. During your morning ritual. In a meeting at work. In an argument or moment of stress. When you get hungry.

Go off auto pilot and see what happens when you make a commitment to listen to your gut and move from there. By doing so I believe your experiences will be more truthful, more joyful and balanced. 

Be mindful and have fun!
Share comments and feedback with us down below, if you like!

Have a beautiful one, 

Adriene 
PS- Here is my Charlie Brown Yoga Photo from a practice in my hotel room in LA last week. I went to visit the YouTube space for the first ever YouTube Fitness Partner Summit. It was AWESOME!!!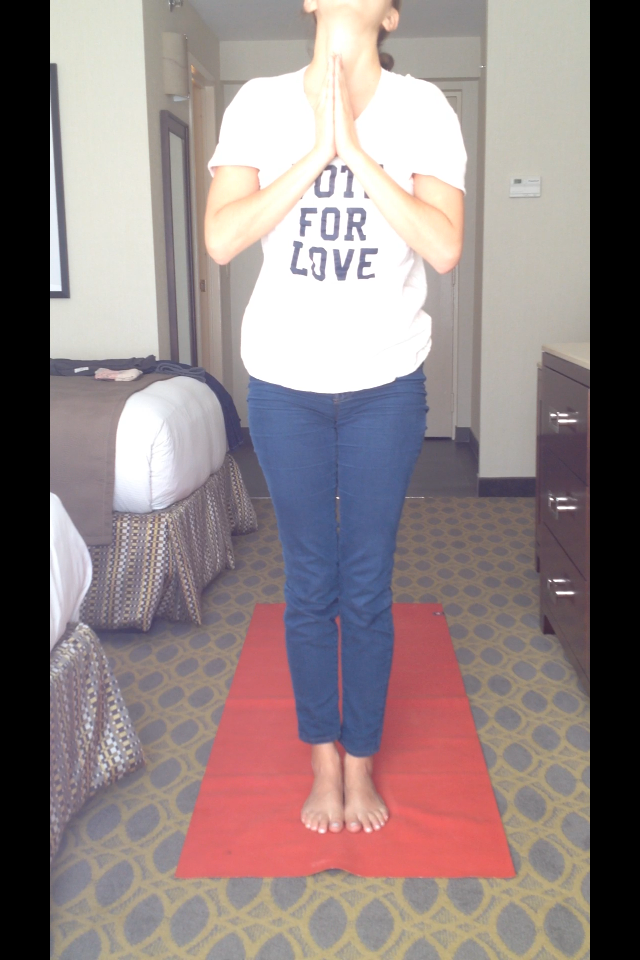 ---
Share this post
---
---
---
0 comment